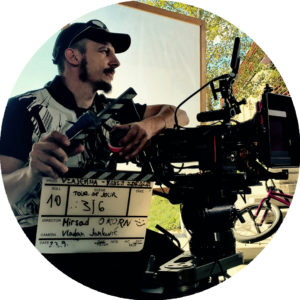 Rok Kovačič started his creative journey as a teenager, exploring various fields of digital art, graphical design, animation, video and photography. From 2000 he got seriously involved in underwater photography, winning a gold medal at the world championship in 2011.
The success gave him confidence to proceed with his passion as a full time professional photographer. He established Golden Light brand and started working as a wedding and product photographer, more and more often also producing video content. He was invited to Slovenian national Underwater Archaeology team where he collaborated with Xlab and in 2012 produced the first digital 3D photo-model of underwater site in the world. He was privileged for his work being published in National Geographic.
In 2015 he started to work as a freelancer for larger agencies producing TV shows, commercials, documentaries and movies. By this time he mastered many production skills and was confident in positions of photographer, camera operator, focus puller, drone pilot and video assistant.
In 2017 he decided to intertwine his knowledge with other freelancers, his friends from the set, found a studio and merged with collective under the name Studio 303.